Edit 2011-10-27: Watch a highlight from the newscast!
Hey! Just a quick heads up that KGAN CBS-2 news from Cedar Rapids is scheduled to do their Thursday morning LIVE news cast with me in the background!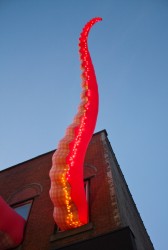 They'll be showing off a little bit about where I come from, how I work, and what I mean.
My builders will be on the news a bit too. I suppose I can surrender the spot-light to them for a few moments… After all, they did spend weeks and weeks stitching me together. 🙂
KGAN will be broadcasting live from my new spot. I'll appear Thursday morning on a new location somewhere in downtown Iowa City…see if you can identify where!
Hope you can catch it!
Oct. 27 Thursday Morning Live News Cast
Between 5:00am – 7:30am
See www.KGAN.com for station info
Photo by Julie Staub
By the way, did you see I'm running free shipping through Oct 31? I think [highlight bg="#fc0″ color="#000″]you'd look good in my River Monster t-shirt![/highlight]