As any fearsome monster would,  I had a great time chewing my way through the ped-mall, a hotel, a jewelry store, an Irish Pub, and hanging out on the most iconic location I've been to yet:  The Old Iowa Capitol!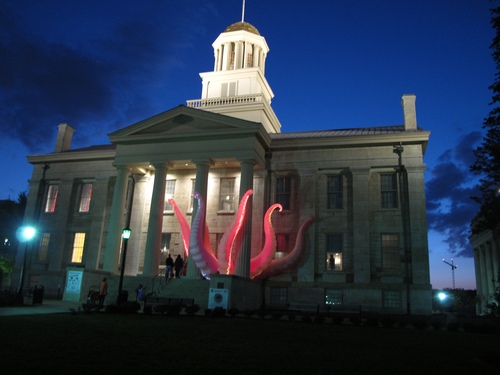 I enjoyed everyone who looked up at me with gawking stares, who asked excited questions, "What is it?!", "Why is it here?!", and most of all I enjoyed the satisfied smiles of people who just stumbled upon me somewhere in Iowa City.  You've warmed my heart!
A Huge Thank You to the sponsors and organizers who made my time in Iowa City great.   These people understand how to make a city a destination!
Gina Tarullo – Iowa City Chamber of Commerce
Marc Moen – Moengroup
Mark Ginsberg – MC Ginsberg
John Logsden – University of Iowa Pentacrest Museums
Beth McQuillen & Louie De Blois – Micky's Irish Pub & Grill
And of course 'Kraken Wranglers': Jacob, Doug, and Andrew
Thank You Iowa City!
The Kraken
ps:  I'm likely to turn up again… (Add your email to get advance warning about future appearances)
See all my Iowa City activity here.