Thanks for coming to my party! It was crazy fun seeing so many people show up to get a look at me in my new location – the Pearl Plaza, W 2nd street, downtown Muscatine.
The party featured a surprise guest!    A 30′ long inflatable submarine, the SS Flynn Collier, dropped by for an unannounced visit.  You should have heard the crowd when it first cruised by!   (Thanks Flynn:-)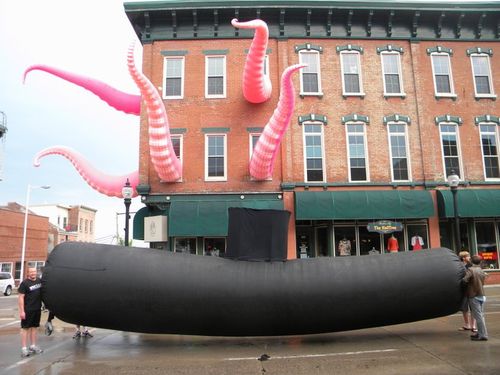 I think my tentacle coming up through the pavement was the biggest hit of all.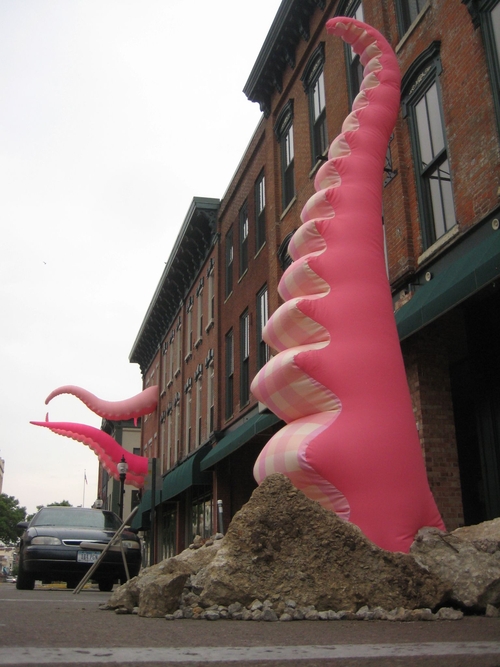 Muscatine River Monster project: Jacob, Andrew, and Ethan.
Through Thursday,  June 16, The Muscatine River Monster will be hanging out at the Pearl Plaza on 2nd street, downtown Muscatine, Iowa.
Visible: 8:00 am – 9:00pm  (weather permitting)
Stop by and see me!  And if you take any photos, would you post one on my FB page?  Thanks!
(Thank you Heather Shoppa (Muscatine Convention & Visitors Bureau) for your excellent help with the reception!)