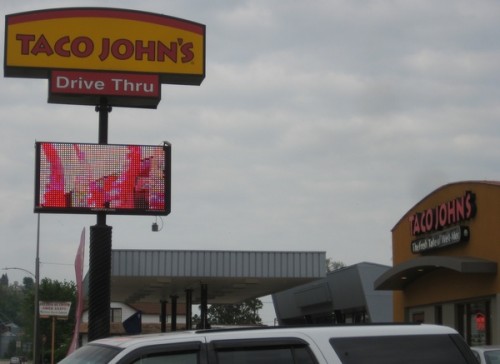 Folks in Muscatine have all seen 'TACO' Tom Hendricks do some crazy antics.  Remember his gulf cart parade floats?   Or how he gave away 500 tacos at the Y Athletic Center's Family Festival last year!!!
Well, this weekend, 'TACO'  Tom decided to do something else fun for Muscatine: The first Kraken appearance of 2012!
I'm spending Cinco de Mayo weekend at Taco John's in Muscatine, Iowa.
May 3,4,5   (Thursday – Saturday)
Taco John's Restaurant
506 Grandview Ave
Muscatine, Iowa
10am-10pm  (times are approximate and weather permitting)
Thunderstorms this weekend might make me duck in and out of hiding for short times – but I promise to be visible as much as possible.  Light rain I don't mind – but high winds don't agree with me!
Stop by and say hello!
To celebrate my first appearance of 2012, I'm doing a giveaway! Want to win a River Monster T-shirt?