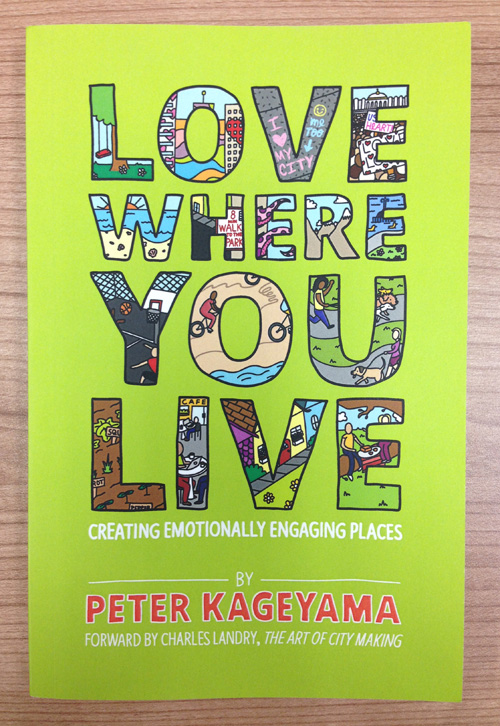 Author Peter Kageyama has a new book!  And guess what, I'm featured in it! I think I'm even on the COVER.  Look closely at the 'E' in 'LOVE' and tell me what you think.  The book is called Love Where You Live – creative emotionally engaging places and it's full of examples of things that people do to make their cities more lovable.
Peter's first book was called For The Love Of Cities. In that book, Peter introduced the idea of a 'Love Note' to a city.  Peter's newest book Love Where You Live is a thoughtful collection of these 'Love Note' projects and the people behind them.  It is a huge honor for me to be included by Peter with these other projects.   (And an honor for the people who made me – they're pretty excited about it.)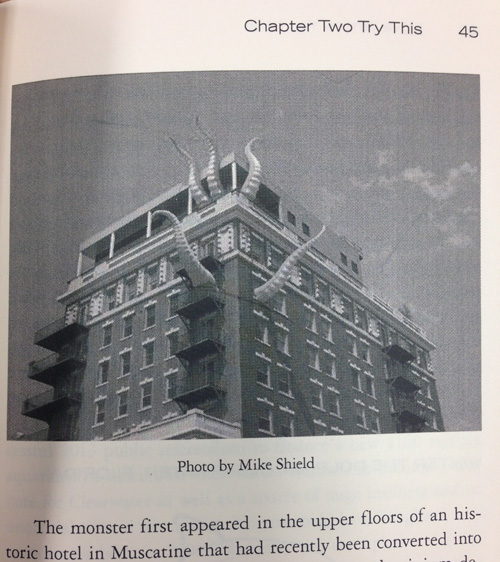 [Thank you Mike Shield for the photo]
Peter travels around the country giving presentations and workshops about how ordinary people are making their cities more lovable. The surprising thing is this: Peter shows people that they don't have to be wealthy or have important positions to make a big difference. They don't need special connections or really anything special at all.  They just need to believe in their ideas and make their own 'Love Notes' to the places they live.
This is a fun read and you will likely be inspired to go out and create your own project – small or large – wherever you live.
I hope you enjoy the book and be sure to check out the website: fortheloveofcities.com
Would you like to see me in person? You just might get a chance! Follow me on FB (click 'get updates') or on Twitter to be the first to know when I'm about to appear.
 More about Muscatine, IA, the enchanting river town I call home.
Bye for now,
The Kraken,
…gurgle gurgle