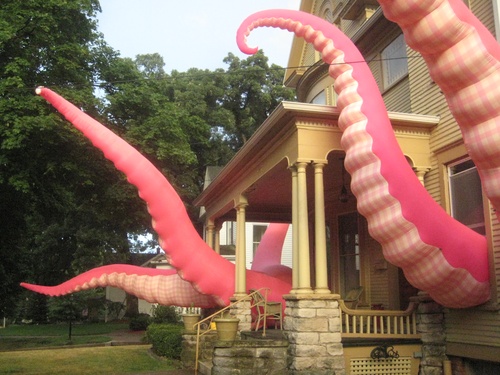 One day only! (Thursday, July 21)
I would love to keep the location a mystery and make you hunt for me, but I'm going to just tell you the location….and then hold a contest for a cool prize!
Ok, ready?  Here's where I am:
I'm making a surprise appearance at 1222 Mulberry Avenue. It's the large yellow house right beside the Muscatine Art Center and Musser Museum.
I can't wait to see the reaction from all the walkers and joggers who have no reason to suspect they'll be confronted by a giant pink tentacled octopus:-)
Now for the contest
The other big news for today is that my River Monster T-shirts are here…and I'm giving one away!

Want to win a River Monster T-shirt?
I'll give a free T-shirt to the first person to post a photo of me at 1222 Mulberry Avenue.   That's it!
Just post it to my Facebook page.
You can also email it to me at MuscatineRiverMonster@gmail.com
(And I'm always happy to see the photos you post on there – contest or no contest.  I guess everyone loves seeing pictures of them-self, even giant monsters)
Ok,  Good luck and happy photo snapping!
Drive by on Mulberry and wave hello!
P.S. Have you seen my River Monster T-shirts?
[button link="/stuff" color="#f25875″ size="6″ style="1″]See the River Monster T-Shirts![/button]