Hi!   I've got a lot planned for this week and I want to let you know where to find me.
This week I'll see a Steam Train come to Muscatine, check out the comfortable looking new student housing at MCC (and probably sign up for college while I'm there), and then go to a party at Bucktown (which is a whole building of art galleries!)  in downtown Davenport, Ia.   All in one week!
Here goes:
Sunday, July 24
2nd Street, downtown Muscatine 12:00noon – dusk
– A historic steam train is coming to Muscatine Iowa on an excursion trip from the Train Festival in Rock Island.  I'll be in downtown Muscatine, on 2nd Street near the Pearl Plaza. Come say hello!
www.trainfestival2011.com
Tuesday, July 26
Muscatine Community College – Student Housing 9:00am – 8:00pm
– I'll be hanging out in the new student housing at Muscatine Community College!  I think you can sign up for classes the same day.  I'm thinking about another degree too…Maybe aqua culture:-)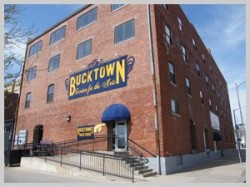 Friday, July 29
Bucktown Center for the Arts
Downtown Davenport, Ia
– Bucktown Center for the Arts is having a birthday party and I'm going to help celebrate!  Bucktown is three floors of art galleries and studios in a setting as cool as you imagine it to be.   This is my first appearance in Davenport…Try not to get sidetracked by the party on your way to say hello:-)  The galleries will be open and artists present, bands playing, food vendors, and a River Monster!
Bucktown's Facebook page
It's going to be a busy week…I'm already up to 8 cups of coffee a day.  Ah 8, what a lovely number.
See ya!