Note: I'll be hiding out in my watery lair during the week after the 4th of July parade…but don't worry, I will emerge again!  People on my email list will get a notice as soon as I reappear!
Howdy!
Recently I joined Muscatine for the 4th of July parade, where I appeared live and in monster in front of an excited public.  It was exhausting, but luckily Muscatine Search and Rescue let me borrow their boat.  Thanks guys!
Here's your proof…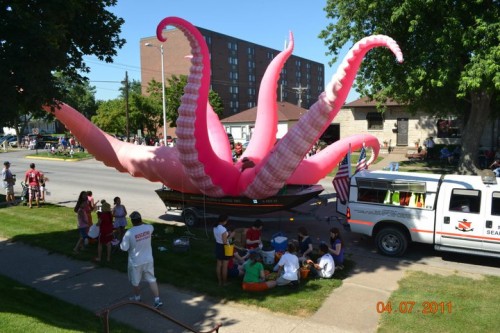 The Kraken Crew gathers, getting ready to feed my hungry fans on the parade route.  Thanks for catching my good side Muscatine Search and Rescue!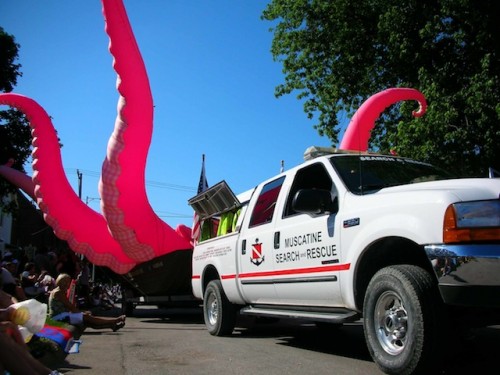 I begin my journey down 5th Avenue, where the audience eagerly awaits my arrival.  (Aint I modest?)  Thanks to Ethan Anderson for the photo.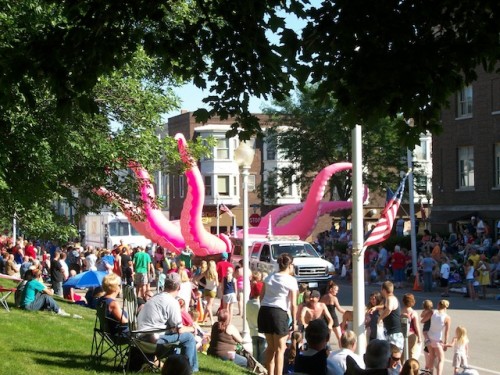 Sara Thomas catches me right around the corner.  I saw her there so I decided to wave!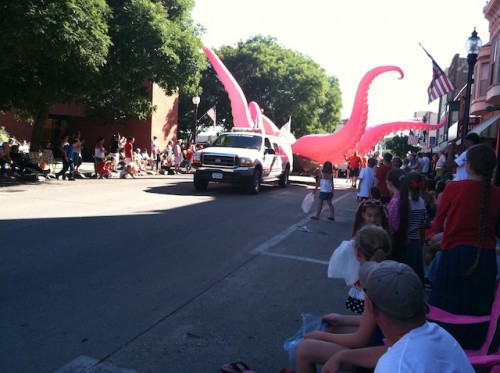 Rawr! I look quite menacing from so far away.  Jami Renae Garmon-Alexander, thanks for making me look so ferocious!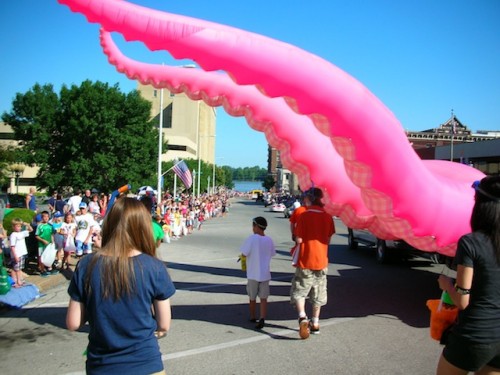 My crew handed out TONS of candy!  You guys eat more than I do!  Thank you Ethan for the photo

Thanks to Snapshots photography by Mindy, we end our journey in an action packed cartoony fashion.
I'd like to thank everyone for coming to see me!  So often I stay stationary, for a Kraken tires easily on land, but it was fun to go out for a leisurely stroll through the lovely streets of Muscatine.
By the way, did you take any photos of my in the parade? If so, I'd love to see them and share them with people.  You can post photos right to my Facebook or email them to me at: MuscatineRiverMonster@gmail.com
I hope you had a great weekend!
Special Thanks to:
Doug Born and Ann Brumback from Muscatine Search & Rescue
Sarah Anderson – coordinating 'Kraken Wranger' volunteers
Flynn Collier – sound system and epic sea monster music