Monday, October 31, I will be at Micky's Irish Pub & Grill.  11 South Dubuque St.  Iowa City, Ia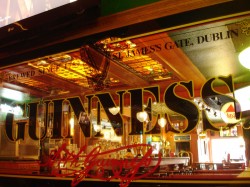 Happy Halloween! I've been celebrating all weekend, but on the actual day of Halloween, I'm going to be at Micky's Irish Pub in downtown Iowa City.
And by At, I mean On…the Roof. So those of you lucky enough to sit under the cool stained glass ceiling panels in the back of Micky's can look up…and imagine I'm about to crash through at any moment…!
I'll be there most of the day, from late morning on through till just about closing time…so there's plenty of time to come by and say hello.
And in case you're wondering, yes, I have photos of my amazing time on the iconic Old Iowa capitol coming soon:-) For those of you who just can't wait, take a look at this flickr set.

(If you want to submit a photo for my 'photo roundups' just email it to MuscatineRiverMonster@gmai.com   Almost all of the photos on my site are sent in by people like you!)