I've devoured a full plate of destinations the last few weeks. I think it may be time for a diet!  You know, the larger you are, the larger the world feels.  That's a bit of Kracked Philosophy for you…
So just what have I been up to?  Take a look.
So here I am hanging out at 1222 Mulberry Street. The house was for sale, which means I made the market value shoot through the roof!
I decided to pay homage to my first appearances by taking a day long sit down on 2nd street once again.  Just like the good old days, with scared people running this way and that…
Muscatine Community College skooled me for a day, letting me rest in the  brand new dorms. I took a different approach to my dorm life this time around and actually washed my socks.
I traveled outside of Muscatine for the first time, wreaking havoc in Davenport's Bucktown Center for the Arts.
There were tons of people, art, and ideas mixing into a delicious clam chowder soup.   Bucktown always has fun Final Friday events, and this one was extra special because it was their birthday BASH!
I do believe there  may be a video of the event up soon…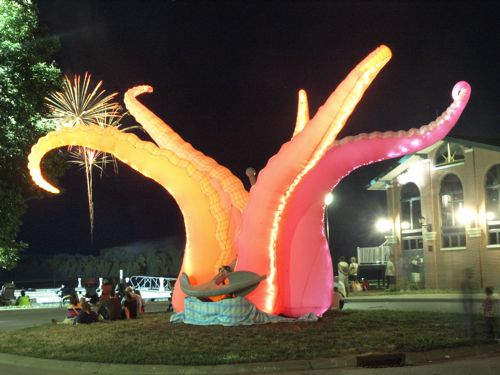 Photo by Justin Colemen of Rehash Editing & Film
Look, the Mississippi! As a ploy to get into the Great River Days festival in Muscatine for free, I hung out with my carnival peeps.  I really lit up the night, don't you think?

Well that's it for photo round up #3. Click here to see my other photo round ups.

Do you have a cool photo of me? I'd love to see it!
To contribute your photo to the next photo roundup, email it to MuscatineRiverMonster@gmail.com.  Include your name, hometown,  and a website if you want a link to it.   All photos considered!

PS, I have my people working on a couple of videos which are almost ready!  I'll announce them on my mailing list as soon as they are.